Choosing a Paint Spray Gun
A Paint Spray Gun is used to apply paint on a variety of materials.
The tip is 1.3 mm and can be adjusted to achieve a desired spray pattern. Some spray guns also feature an air regulator for fine-tuning the flow of paint. In addition, some paint spray guns feature an extension to allow easy access to hard-to-reach areas.
Before using a Paint Spray Gun for the first time, it's a good idea to practice first on scrap materials. The purpose is to familiarize yourself with how to handle the spray gun and understand how to control the flow of paint. This includes studying how the paint spray fan outs and drips, and moving the gun side-to-side to get the right amount of coverage.
A Paint Spray Gun can be used both outdoors and inside a paint booth. It can also be operated manually. Depending on the type, they are suitable for small, medium, and large surfaces. Different types have different paint capacities and different durations of use. The size of the tank should also be considered when choosing a Paint Spray Gun.
Another type of Paint Spray Gun is the High Volume Low Pressure (HVLP) spray gun. This type of spray gun uses a large amount of air at low pressure. This reduces paint loss by up to 75%. It's also safer for the environment. It also provides an even spray pattern and is suitable for small areas.
HVLP spray guns are ideal for spraying paint on metal surfaces. They are easy to clean and are great for DIY projects. They're also relatively cheap. They also offer adjustable spray settings. A paint spray gun's cup can hold up to 20 ounces of paint. However, they are more noisy and require more frequent maintenance.
When choosing a Paint Spray Gun, it's important to consider how large a project will be. An airless spray gun is more convenient than a traditional paint gun, and it can cover a larger area per application. It also saves paint because air helps flatten and soften the paint pattern. Make sure to choose the correct air pressure for your needs. Otherwise, your paint may end up being misapplied.
Airless Paint Spray Guns are typically used for flat, large surfaces and offer fast application of thin and thick coatings. A Graco Magnum X5 is a decent model, which comes with a 75-foot hose. It's easy to use, too, and has a good range of pressure.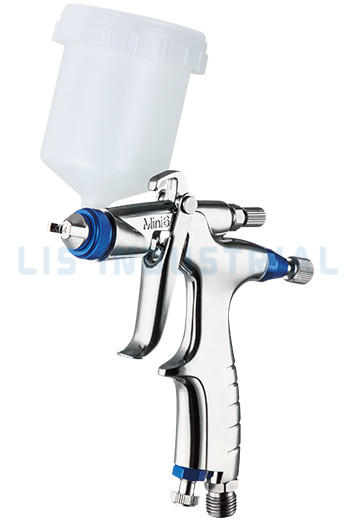 Designed and manufactured for the purpose of small-area coating, repair or maintenance.


Fluid nozzle(mm): 0.5
Spray length: 130 mm
Air pressure: 50 PSI 
Capacity of cup: 125ml 
Feed type: side cup
Improved atomizing performance
A change in the grip shape gives a better touch.
Beautiful shape give a better feel.