Whether you are applying paint to a house or a car, a paint spray gun will help you achieve even coverage and consistent results. These devices come in a variety of sizes and models, making it easy to find the best paint sprayer for your needs. To get the best results, it is important to follow the manufacturer's instructions. These will help you achieve repeatable results and ensure that your sprayer is performing as it should.
A paint spray gun is a device that atomizes paint through the use of compressed air.
This device can apply paint to a variety of surfaces, including wood, metal, and plastic. It can also be used for spraying sealant and other coatings. Having the right paint sprayer will make painting easier and faster. It can also help you get the job done right the first time.
The first step to achieving even coverage is to clean the surface you plan to paint. You will also need to prepare the area to be painted, including taping off areas and using old clothes. You will also need to wear protective coveralls and a full face respirator.
Once the surface has been prepped, you will need to get your sprayer ready. To get the best results, you will want to use the right size spray tip for your application. The size of the spray tip will depend on the size of the paint you are using. Also, you may want to try to spray in a circular motion so that you can achieve a more even application. You should also speed up as needed to achieve even coverage. The sprayer should be positioned at least 6 inches away from the surface you are spraying.
A paint spray gun can also be used in an airbrush, which is an air-powered device that creates a fine spray of paint. Airbrushes are great for detailing and shading drawings, but they can also be used to retouch photographs. Airbrushes typically use a pencil-shaped atomizer that mixes paint and compressed air. You can also use a hand-held paint sprayer, which uses compressed air to convert paint to tiny droplets. The tips of the sprayer should be cleaned regularly to prevent paint from clogging.
You should also remember to use the right paint thinner for your sprayer. If you don't, the paint will start to degrade faster. It is also important to record the air pressure and air cap you use so that you can achieve consistent results. It is also recommended that you only use the sprayer for no more than 50 gallons of paint per year.
The first step to applying paint with a paint sprayer is to determine the right size tip and air cap for your application. Once you have determined the right size and air cap, you can move forward with your painting project. You should also observe how the paint lands on the surface and make note of the angle you are holding the sprayer. Holding the sprayer at an angle can result in uneven coverage and could also cause paint to dry before it reaches the surface.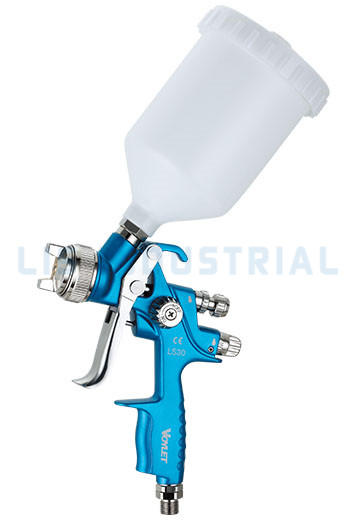 Voylet LS30 Pneumatic HVLP Gravity Feed Air Spray Gun 20oz Cup
Applications
・ Plastic Coating
・ Automotive Coating
・ Metal Coating
・ Woodwork Coating
1. the thread of fluid screw is perfectly suitable for cup, without seal and still couldn't leak.
2.Forged aluminium body, fine polished and anodized
3、 The robust air cap is made of chrome-plated brass, while paint needle and fluid tip are manufactured from tempered stainless steel.
4、All control elements can be easily operated
5、360°swivel joint, avoid hose twisting and relieve your wrist
6、Improved atomizing performance
Fluid Nozzle(mm)(etc):1.3 / 1.7 / 2.0
Air pressure(PSI): 29
Capacity of Cup(ML): 600
Feed Type: Gravity
Air Inlet: G1/4"
Carton size(cm)(10pcs/ctn):64.5 * 34 * 24.5