Whether you're a professional or an occasional handyman,
a
sandblast gun
can make a tough job easy. Sandblasters are used to remove rust, paint, and other corrosion from metal and other surfaces. They're available in several different models, and you'll want to choose one that suits your needs. Sandblasters can also be used for distressing wood, engraving intricate designs in glass, and even for engraving on metals. They are available in handheld and gravity-fed models. There are three different types of sandblasters, and each has its own advantages.
Pressure sandblasters work by using a larger container filled with silica sand under high pressure. The container is connected to the gun via a special hose. This allows the sand to be fired through the gun at a high rate of speed. This makes pressure sandblasters more ideal for large surfaces, such as concrete. Pressure blasters also have a larger container, which makes them more expensive to operate. If the container becomes empty, you'll need to purchase a new one. In addition, pressure blasters are more expensive to operate because they create more waste.
Siphon sandblasters are more economical than pressure sandblasters, but they produce a bit less power. They are also more bulky, so they're not ideal for large projects. They also have two separate hoses, which can become difficult to maneuver. Sandblasters are available in a wide range of sizes, from small to large, and you'll want to choose one suitable for your application. Sandblasters are available in handheld, gravity-fed, and siphon models.
Gravity-fed sandblasters include a hopper on the top of the gun. The hopper is filled with silica sand, which is then pulled through the gun. This method of sandblasting is ideal for small jobs, such as cleaning up paint and debris.Pressure sandblasters are more commonly used by commercial organizations, and they're designed for larger surfaces. Their large canisters contain silica sand under high pressure, which is used to blast media at a high rate of speed. They can be used to strip stubborn rust or paint from metal, and they're especially useful for stripping concrete. The pressure of the media makes it easier to control than gravity-fed guns. They also have a larger capacity, allowing them to strip more surfaces.
In addition to using compressed air, sandblasters are also equipped with ceramic barrels to protect the media from damage. Sandblasting can create condensation inside the gun, which can clog the gun. Sandblasters are also available in several different styles, including trigger guns and foot pedal controlled guns. Trigger guns are popular, but they can be tiring to operate for long periods of time. Foot pedal controlled guns can be better for some users, as they allow you to focus on your job rather than on keeping a steady trigger.
There are several different models of sandblasters, but they all use the same pressurized gun to shoot media at high speeds. They are usually accompanied by various hoses, which can be used with various blast media. They can also be used for stripping paint or grime from machinery.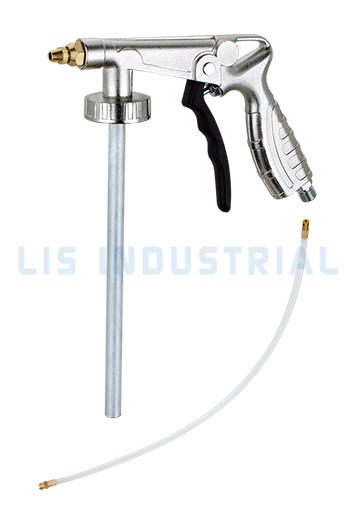 626 Suction Coating Pneumatic Spray Gun Air Sandblaster
Rated Pressure: 70PSI
Max Pressure: ≤ 150PSI
Carton size: 59*24*29cm(10pcs/ctn)