A paraffin washing gun is an air engine cleaning tool that sprays a liquid or oil solution into the engine bay.
This gun is useful for a wide variety of cleaning agents, oils, and rust proofing fluids. Its spray bottle is designed with an adjustable nozzle that makes it easy to apply the liquid to various surfaces. The spray bottle is usually available in a large or small size, depending on the type of liquid that needs to be applied.
Features of paraffin washing gun
Depending on your needs, the spray bottle on a paraffin washing gun can be used to apply various cleaning agents, oils, and rustproofing liquids. These fluids can be used for washing, polishing, and degreasing surfaces. Some spray guns also have a nozzle for adjusting the flow. If you are looking for an oil or paraffin washing gun for your vehicle, you can check out the reviews online to see what others have to say about them.
D.I.Y. washing gun
You can use this D.I.Y. paraffin washing gun to clean your car or other items. This gun connects to a compressor and is capable of spraying a variety of cleaning agents, oils, or rustproofing liquids. This handy tool can even be used for hand tools and hard-to-reach places. The gun can also be used to remove grime and grease from a wide variety of surfaces.
The Pinnacle Foam Gun transforms cleaning solutions into washing agents with a rich froth without splatter. Designed to tackle tough detailing jobs, this tool features an oscillating nozzle to blast the cleaning solution into nooks and crannies. It's the perfect tool for cleaning convertible tops and body seams. These tools are also perfect for car detailing jobs, as they work to create a rich froth without splatter.
Air engine cleaning gun
If you want a high quality air engine cleaning gun, the Blackridge air engine cleaning gun is the perfect solution. It comes with detergents and non-corrosive cleaning agents that will cut through grease and grime. This product is easy to install with its Nitto style fitting. The gun also has a 750mL tank for larger areas. For added convenience, the gun is easy to use by following the instructions that come with it.
The DO-10I is a high-performance aluminum air engine cleaning gun with a long nozzle. This gun can spray various cleaning agents, oils, and rustproofing liquids, depending on the specific type of cleaning agent that you'd like to use. This engine cleaning gun can be used for the engine bay, wheels, and other areas, and comes with an included air compressor. It has an extended warranty of two years.
The Tornador Car Cleaning Gun is perfect for tackling difficult detailing jobs.
It has a cone-shaped nozzle that uses an oscillating tip to blast the cleaning solution deep into crevices and other parts of the car. This tool can also be used on convertible tops and body seams. It also works with an air compressor to saturate the surface and remove dirt. This air engine cleaning gun is available in different sizes and colors.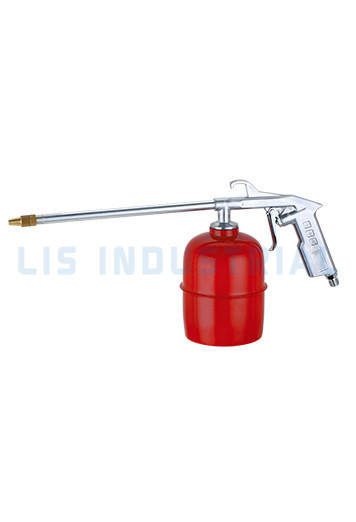 DO10 Oil Spray Gun for Car Cleaning Engine Cleaning Solvent Sprayer Cleaner
Air inlet: G1/4"
Rated Pressure(PSI): 90
Max Pressure(PSI): ≤150
Capacity(CC): 600
Carton size(cm)(20pcs/ctn): 59 * 43.5 * 45